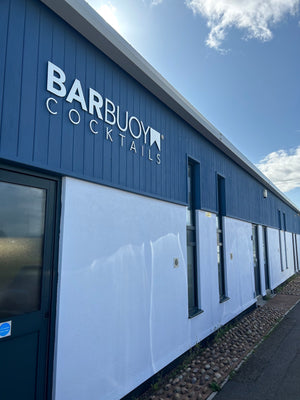 Did you know our story began with a beach, a sunset and a flask full of our favourite cocktail brought along to be shared with friends.   The feedback was unanimously good and the question was soon asked, "why don't you bottle it?".  So we did.  

 

Within a matter of weeks our house was licensed and our kitchen table was all set up ready for us to create the first batch.  It worked!  Fulfilling orders became a daily task and before long our front room looked like a mini Amazon warehouse.  

 

Six months later we knew we had to properly commit.  We moved the business into a small but perfectly formed commercial unit where we began to lay down some solid foundations and systems for which to grow upon.  

 

We won some awards; established some great spirit partnerships and worked tirelessly to shout about the Bar Buoy brand.  We began supplying more and more hospitality customers; achieved 'Made In Devon' accreditation; started making donations to marine conservation charity Project Seagrass and also recruited our first member of staff, the happy-go-lucky, heavy-metal loving Toby.  

 

Again, it worked! But before long we were bursting at the seams and soon whispered to each other "we're gonna need a bigger boat"…

 

After a couple more months of renting additional shipping containers along with many hours of commercial property searches, we finally found not just one, but two new units that ticked the boxes and, most importantly, still had the sea at the end of the road.

 

The summer was all about rolling up our sleeves and getting to work cleaning, renovating and decorating but we're pleased to say that the new Bar Buoy HQ is now shipshape and Bristol fashion.

 

(Special thanks goes to Nigel, the latest member of the Bar Buoy crew, who has worked his socks off on the refit, not least by hanging up our new sustainable exterior signs which we're immensely proud of!)

 

So what next?  Well, we're feeling pretty buoyed by the progress we've made but there's still so much to do to keep the business on track and grow.  We've already got our heads buried in plans for 2024, but part of this involves inviting more of you to our new premises for cocktail tasting events and tours so do watch this space.

 

In the meantime, why not treat yourselves or a friend to our premium bottled cocktails and let the good times roll!