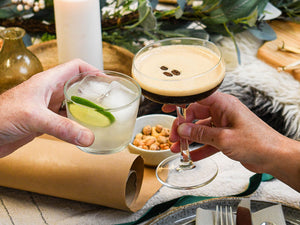 Serving cocktails with food is definitely what's hot right now.  And with a broad range of flavours, there's lots of fun to be had experimenting!  
In this three part mailer, we've put together a little guide to help you get started.  
Grab a coffee, pull up a chair and take look…
Part one: Our top tips

1. Balance is key: Look for complementary flavours that enhance each other.  If your dish is spicy, pair it with a cocktail like our Seabird that has cooling or citrusy notes to balance the heat.

2. Contrast textures: Consider the texture of both the food and the cocktail.  A smooth cocktail like our Devon Stormy might complement a crispy or crunchy dish, while a light and refreshing cocktail like our Cosmopolitan might balance a recipe that's rich and buttery.

3. Regional pairings: Opt for cocktails that are traditional to the region of the dish you are serving.  Several of our cocktails such as our Margarita have roots from across the globe so take into consideration native cuisine.

4. Consider the botanicals in the base spirit: Every cocktail starts with a base spirit and if it's a premium one, the botanical flavours will stand strong.  We're lucky to have partnered with some amazing premium Devon spirt brands each with their own flavour story.
5. Experiment and have fun: Don't be afraid to try new combinations and explore your taste buds. Sometimes the most unexpected pairings can give the best results; creativity is key!
And please do let us know what you come up with!  In fact we'll offer a prize (cocktail based of course!) to the social media post with the most likes that features a winning Bar Buoy cocktail and food pairing combo.  
Just make sure you tag us @bar_buoy
Cheers and bon appétit!