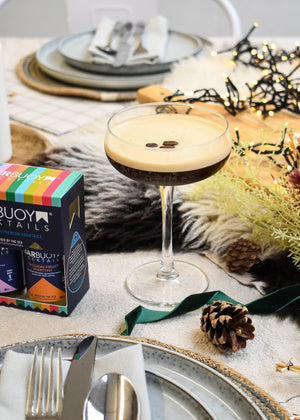 Our Espresso Martini has always been a firm favourite amongst Bar Buoy fans.  And it's a cocktail that we're particularly proud of ourselves.
It's a true Devon collaboration having been carefully crafted with Dartmoor-based TORS vodka and Owens organic cold brew espresso, expertly roasted in South Devon. The gorgeously rich aroma captures the heady scent of freshly roasted coffee making it punchy, bitter, sweet and smooth all at the same time. And while it's rich and indulgent, it's also perfectly balanced.
To achieve the perfect serve, just chill the bottle in the fridge, give it a good shake in a cocktail shaker with plenty of ice to achieve a thick foam, strain into a martini glass then garnish with three coffee beans – which are said to represent health, wealth and happiness.
Voila! We'll raise a glass to that!