We produce small batch premium cocktails.
And we're pleased to say that since we began, they've received several awards as well as plenty of positive press coverage and five star reviews.
Each cocktail is carefully mixed just a stone's through from the sea using premium spirits and high-quality ingredients.
Our compass is set to navigate sustainability. Simply put, we love the sea and want to protect it.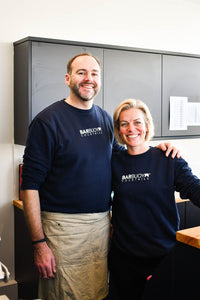 MEET TIM AND RIA
So who is the Bar Buoy and what does he know about making cocktails we hear you ask?
Well after 25 years of being both behind and in front of bars around the world, our founder Tim Ball has learnt a thing of two about how to make a good drink. 
Having run bars at some of the world's largest events (think Olympics!) Tim understands that for someone to really enjoy a cocktail it needs to be made with high quality ingredients and served in good time before anyone starts drumming their fingers and glancing at their watch…
Tim's knowledge of the drinks industry has been fundamental in the creation of our range of bottled cocktails and it means that each one tastes as if it was made right in front of you. In fact, they taste so authentic that many bars and restaurants now choose to serve our drinks themselves.
Along with his wife Ria (who has a background in marketing and a taste for the perfect sized sundowner on the beach…) Tim set up Bar Buoy Cocktails in 2020, initially as an online store and then, as the world unfolded, to supply both the on and off trade too.
The Log Book
Serving cocktails with food is definitely what's hot right now.  And with a broad range of flavours, there's lots of...
Read More